Mini-Split Duct-Less Systems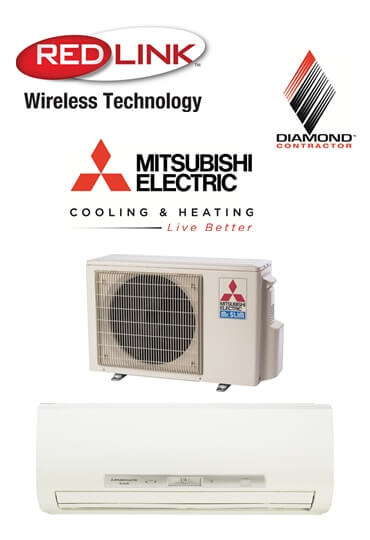 True Cool Air Conditioning Services Inc is an authorized Diamond Contractor by Mitsubishi Electric. We recommend Mitsubishi Mini-Split ductless air conditioning systems. Mitsubishi is a pioneer in this type of system, they are very quiet, very reliable and very efficient. The Mitsubishi mini-split is a departure from the traditional air conditioning systems of the past.
Today's homeowner want systems capable of efficient and quiet operation while taking advantage of the latest technology. Our systems can be applied in new construction and are ideal for difficult renovation projects or as a supplemental system for a problem area in your existing home. Single zone or multi-zone, we have a solution to fit your needs. Mini-Split systems are used worldwide mainly in situations where there is not an attic to run the duct work or in a zone of the building where you want to zone a different temperature for a specific use.
In South Florida we find that most of the installations we have put in are either a converted garage in a home or a computer room in a business. Either way this fills the need for a separate zone of cooling for a specific purpose without replacing the whole home or business ducted air conditioning system. The efficiencies are very very high so the energy consumption is very very low. Mini splits can provide boiler baseboard heat supplements, basement heat alternatives, indoor comfort, and ductless heating and cooling.
No space to run ductwork?
We have the perfect solution!
If you have no space to run ductwork for a forced air system this may be a perfect solution for your project. These are a perfect solution for adding air conditioning to historical buildings. These mini-split systems are extremely quiet (about 22 db-inaudible beyond five feet) and can be installed up on the wall. 

The units employ variable speed compressor and blower motor technologies and are very efficient. Up to 17 SEER (qualifies for energy efficiency tax credits).The best feature of these units is the fact that they are remote controlled mini splits. This will allow you to set the temperature you need for each individual room with a remote controller.

The larger units can be applied to commercial applications, offices and churches. We also install these in computer rooms, data rooms etc.
If you want an area the size of a typical bedroom cooled or all the way up to an apartment building, Mitsubishi has a single zone or multi-zone system that will fit your needs, without any duct work. We usually recommend the heat-pump Mitsubishi system, that way you may have warm air or cool air depending on the demand.
Advanced Technology
Smart Controls
Ease of Installation
Application Flexibility
Ducted, wall or floor mount
Energy Efficient
Energy Star Rated
Whisper Quiet
Allergen Filtration
7 Year Warranty
Leading Reliability
Tax Credit Qualifier